All professionals at Moorestown Smile Center maintain the highest levels of accreditation and pursue ongoing education to stay abreast of the latest trends in the medical field. Read on to learn more about our staff's experience and training.
Dr. Aliya Khan
General Dentist in Moorestown, NJ
Moorestown Smile Center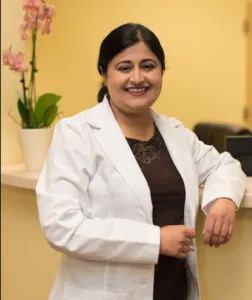 Dr. Aliya Khan is a graduate of Columbia University School of Dental and Oral Surgery , Class of 2003. After her graduation, she completed a two year residency training from Westchester Medical Center , where she performed numerous advanced procedures, and became the Chief Resident in her second year of residency.
Dr. Khan has been a practicing Dentistry in New Jersey since 2005. She moved to South Jersey in 2010 to be closer to her family.
Dr. Khan likes to volunteer for charitable organizations to provide medical services. She has provided free dental services for uninsured and financially needy patients through charities like Remote Area Medical and Mission of Mercy. Her other interests include Hiking, reading and cultural studies.
At Moorestown Smile Center our motto is "Exceptional Service with a Smile" . We will make sure that your dental experience is very pleasant and comfortable. Our staff is well trained and friendly. We provide services in all aspects of general dentistry including root canals, crown bridges, periodontal needs and implants. Please visit us at our state of the art brand new facility in Moorestown.